---
Match Report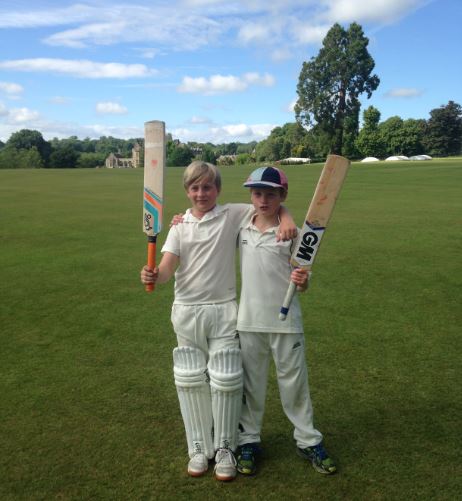 Report by Paul Walker
Sussex Martlets (219 for 9 declared in 38.5 overs; H Loughton 136) lost to Cuckfield (221 for 7 in 36.4 overs; T Morrison 113*) by ? wickets
A late withdrawl (has any other match-manager suffered this unusual phenomenon?) led to two possible Martlet firsts: three father and son combinations and a team being allowed to field 12 players.
The reduction to ten men on the eve of the game meant that George Hicks (aged 11) and Harry Walker (aged 9) came into contention. Both were desperate to play and hatched a plan the RMTU would have been proud of. Play us both or we won't play! Cuckfield agreed and then even more generously elected to field in warm, sunny conditions The sun always shines on this fixture.
George Martin grabbed the opportunity to open the batting with both hands and a lusty boundary whet the appetite for a feast of runs. Sadly that was the end of George`s runs and his replacement at the crease, Hassan Chaabane, lasted only three balls in the sun before being bowled. Youngsters Hicks and Walker were about to pad up when Hector Loughton and Nick Beechey started to enjoy themselves.
Beechey batted for 90 minutes in his first Martlets game for some time. Hewas unlucky to fall three short of a half-century in a decent knock. Loughton meanwhile posted a wonderful 136, in just over two hours. This lad can bat!
Evette Burton looked composed and comfortable and it was a surprise when she was bowled on eight. The fall of James Hicks, on his Martlets debut for two and then Hector for slightly more led to an entertaining partnership between the junior Hicks and junior Walker. Both boys slammed impressive boundaries before running themselves out.
In between the run-outs Walker senior had entered the fray. Barely a month had passed since the Goodwood bloodbath when young Hicks' mother had stitched up the Skipper's lip on their kitchen table. The medics were on stand-by again when, having chipped up a dolly to mid-wicket, Walker set off on another mad run in a bid to distract the fielder. Neither the run or the almighty collision with George put off the catcher however. While Walker was poleaxed, Hicks simply shrugged his shoulders!
Enough was enough. The Martlets declared on 209 having batted for 38.5 overs.
A pleasant tea was followed by a snappy spells from Mark Chapple and Henry Rydon, the junior in the other father-and-son combination. Cuckfield were reeling at 73 for five and the Martlets were fielding well, with tidy keeping from Hassan and enthusiasm from all, especially James Hicks.
The heat began to take its toll on the senior Martlets: Walker, Rydon and even the usually dependable Martin all spilled catches. Cuckfield began to dig in. We needed wickets, but try as we might, they didn't materialise.
Sadly (for the visitors) Tom Morrison's unbeaten 113 proved the match-winning innings for the hosts. Even cameos from the two juniors couldn't swing it – although George Hicks bagged his first Martlet wicket.
Special thanks to our scorer Roger Lusted, umpire KC Lee, our hosts for their hospitality and all those who played.
---
Batted first team:
Sussex Martlets
Batted first score:
209-?
Batted first leading batters/bowlers:
Batted second team:
Cuckfield CC
Batted second score:
>209-?
Batted second leading batters/bowlers:
T Morrison 113*
---
Go back to all fixtures in 2016
For detailed information on each venue, please visit our Venues page