Time/Result: Lost (78 runs)
---
Match Report
Goodwood CC (256-5 in 40 overs; S Ejaz 84, P Lamb 60) beat Sussex Martlets (178 in 36.1 overs) by 78 runs
"We all loved cricket that happy day"… was how the match report from this fixture ended two summers ago. And the skipper's mind wandered back to that dreamlike occasion as he sat next to a fast deepening pool of his own blood at the conclusion of Sunday's match.
With his top lip being held together by Goodwood`s keeper, and fellow Martlet (and first aid expert) Hassan Chaabane, the skipper wondered if it had all been worth it. Walker had arrived at the crease moments earlier. All that was required was a cheeky last wicket partnership of 80 off five overs. "Let's show some pride" said his gutsy partner John Ashworth.
Ashworth and Mark Chapple had opened the bowling shortly after 2.10pm. The match had begun late to allow for the arrival of the George Holman. The superstar MCC keeper had even sent the skipper a photo of an advert for an event which was creating the traffic jam. Alas the flyer was for a music festival in Portsmouth some 20 miles to the west and not for the Fontwell race meeting which was the true cause of the tailbacks. Believing our hero may be heading for Groove Armarda and DJ Pete Tong the gloves were entrusted to Simon Warrender and 12th man Harry Walker made his Martlets debut aged nine.
Holman arrived an over in and Harry Walker departed. Chapple and Ashworth bowled impressive spells as did Henry Rydon and Michael Murray. Sadly Craig Talbot, Galley and Paul Walker conceded more runs in their 11 overs than the opening quartet's 26!
Chapple had claimed the wicket of Matt Bennison, sharply caught by Warrender and then Matt's father Graeme was run out. However, a partnership of 109 between Afghanistan`s finest, Ejaz Safi and Martlet candidate Peter Lamb began to take its toll on morale. Walker spilt two catches (both off Galley no balls) and Murray selflessly split two more (not off no balls) to make the skipper feel better.
Harry reappeared for seven overs of textbook fielding as his father gave his aged back some ice. He should have brought junior on to bowl.
By the time Chapple held onto a catch off Galley (his first Martlet wicket) it was time for a group huddle and motivational speech. Things had gone a tad Pete Tong at Goodwood and sensing that the event in Pompey may not be the only mutiny on the south coast that day the skip promptly took himself off and brought on Will Rydon (solid) and then brought Chapple and Ashworth back. Runs slowed and Goodwood eventually posted 256 for five off their 40 overs.
Sumptuous tea was enjoyed in the sunshine under the cedars, before Holman and James Hope strode out to open. All went well – very well in fact – for the first half hour before Holman went for 37 and then Hope for an elegant 31. Their strokeplay had deserved more. A good foundation.
Warrender and Talbot were made to toil for their 19 and 16 respectively, before both holing out to Matt Geffen catches at mid-on. Neither Galley or Murray troubled Peter Danks in the scorebox, but we still had Chapple and the Rydon family. Mark departed for an entertaining 17 and the Rydons seemed set for glory until Safi bowled Henry (33) and Geffen dispatched senior.
And so our sorry tale nears its claret soaked conclusion.
Attempting a risky (but somewhat necessary) run Walker was second best to a fine throw by Bennison. The ball, literally, added injury to insult and ricocheted into the far-too-slow batsman's mouth. Cue Hassan's heroic response to cries of "medic" and rolled eyeballs by both teams.
Thanks to James Mayne of Goodwood CC (and Claire and M-In-L for teas), scorer Peter Danks and umpire Bryan Tomalin.
Was it really worth it? Of course. A lovely sunny day, beautiful setting, fantastic, glamourous support (only two players failed to bring either stunning WAGS or smiling mini-Martlets – some brought both) some decent performances and of course a delicious tea. Shame there was no straw for the captain's Goodwood ale before he headed off for stitches.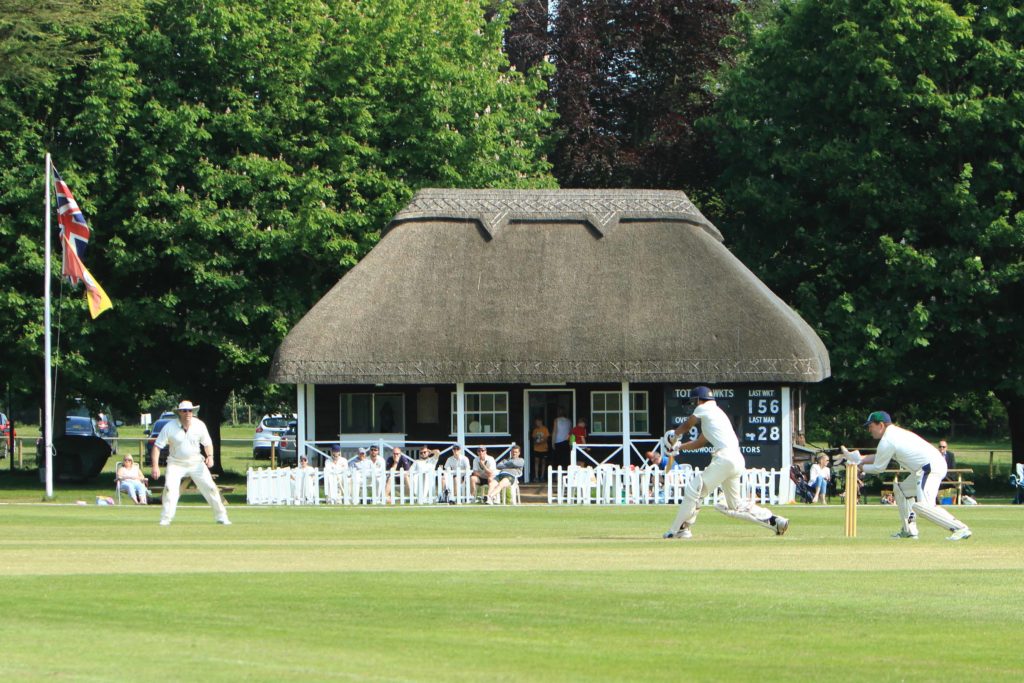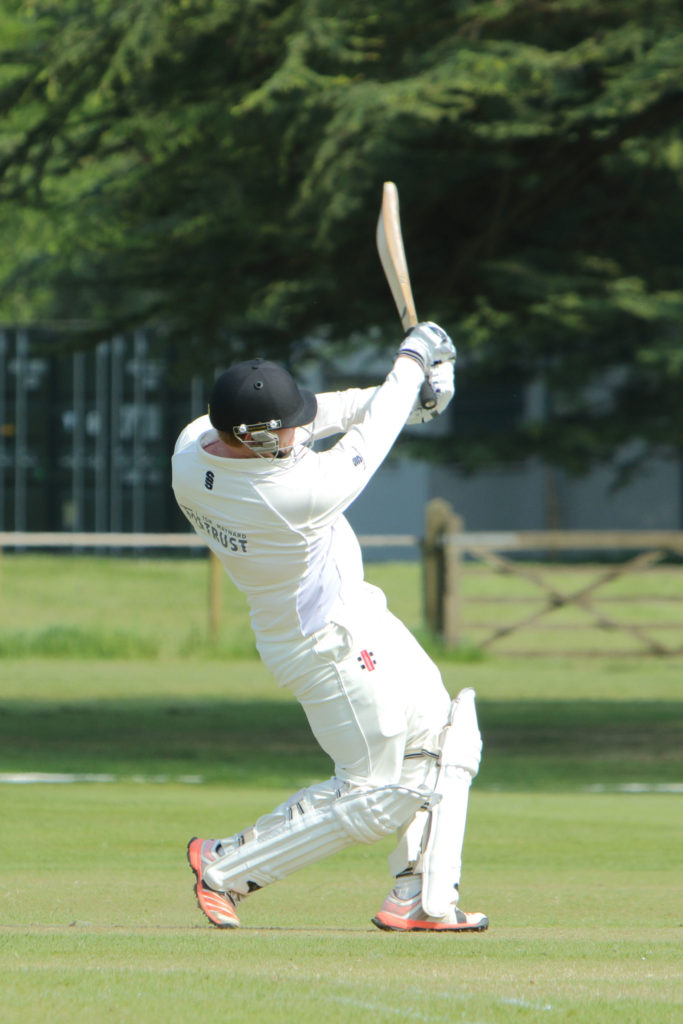 ---
Batted first team:
Goodwood CC
Batted first score:
256-5
Batted first leading batters/bowlers:
S Ejaz 84, P Lamb 60
Batted second team:
Sussex Martlets
Batted second leading batters/bowlers:
---
Go back to all fixtures in 2016
For detailed information on each venue, please visit our Venues page