A brief history of The Sussex Martlets Cricket Club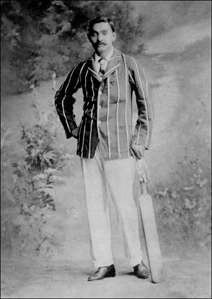 Formed in 1905 as the Hove Long Vacation Club (a name which was to last only 2 years) by a group of friends, amongst whom was Sir Arthur Conan Doyle, The Sussex Martlets originally existed to "encourage amateur cricket in the County of Sussex".
Interestingly, the crest of the County of Sussex is made up of six martlets, said to represent the six traditional rapes (administrative sub-divisions) of the county. A martlet is a type of heraldic bird similar to the swallow, but having short tufts of feathers in the place of legs!
The martlet is seen in the arms of Westminster Abbey, Westminster School and Pembroke College, Cambridge. These connections are possibly the reasoning behind the club colours of Cambridge Blue, Westminster Pink, and the Oxford Blue completing the 'varsity' links. The colours combine together on our distinctive cricket cap, which can be spotted on many cricket grounds around the world.
Famous Martlets
The Club has always maintained an illustrious membership. Early members include the famous names of C B Fry and K S Ranjitsinhji. More recently, cricketers who have played for the Sussex Martlets before graduating to Sussex County Cricket Club include The Nawab of Pataudi (India), John Snow (England), Tony Greig (England), Mike Griffith, John Barclay, John Bartlett, Clare Connor (England), James Kirtley (England), Robin Martin-Jenkins, Toby Peirce, Geoff Wills (our President), Hubert Doggart (England), Derek Semmence, Nick Wisdom and Tim O'Gorman (Derby).
Wandering cricket
We are privileged to have Arundel Castle as our unofficial home, playing a number of games there annually. The rest of our fixtures are played mainly in Sussex at some of the most picturesque and celebrated grounds in southern England.