Written by Peter Hartland
The third member of the triumvirate, Sandy Ross, will have been known to many recent and current members. A few words from four prominent ones are reproduced below. They are taken from a tribute book expertly put together by Martlet Newsletter editor Desmond Devitt after Sandy died in 2009. The tribute book can be downloaded at the bottom of this page.
"Sandy would probably not believe me if I told him he was one of my sporting heroes. But he was, he really was. You see, I envied his great love of cricket and football and rugby. I envied him for never having been a professional, which left enthusiasm and joy still intact. He loved these games, and especially cricket which he played with great skill too. Sandy never wanted it to rain. Every day he looked forward to playing. It was a serious affair with lunch and tea always important too. But most important to Sandy were the people he was playing with and against. They really made his day and the game worth playing." John Barclay, Sussex Martlets Patron, former MCC President and Sussex Captain
On another occasion our esteemed Patron confided that, given the choice, he would rather drop a catch off Sandy's bowling than Eddie Harrison's!
"There have been many total cricket enthusiasts; Sandy must be placed in the very front rank of that special group. It was fitting that the flags of Martlets and Yellowhammers – another of his clubs – were flown at half-mast at Arundel, a day or so after his passing. No doubt he took much from cricket, but he certainly gave his utmost in return. Sandy has been one of the best-known and most respected cricketers of his time. We will all miss him – and speak of him often in the years ahead." Brian O'Gorman, leading Martlet runscorer
"Sandy – one of few people to be recognised instantly by his first name alone – epitomised the Martlets. A good and knowledgeable cricketer, gregarious and spirited, he loved the game and its world, and was very much a man of Sussex. But he was much more than just this. His warmth of personality, beaming smile and enduring capacity for friendship and fellowship, allied to his considerable organisational powers and unstoppable enthusiasm and commitment, meant that he was much in demand in cricketing circles; and through his influence and stewardship the Sussex Martlets flourished, notably in its Centenary Year (2005) which he orchestrated brilliantly." David Gibbs, former Club Archivist and teammate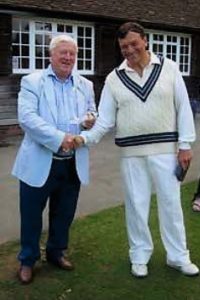 "On succeeding Adrian Ford as Chairman of the Martlets, Sandy continued the long line of respected Martlet administrators in ensuring that Martlet cricket was conducted in the correct spirit and in accordance with the many unwritten rules of conduct relating to the game. He had no time for cheats or poor sportsmanship whatsoever, and abhorred present day trends relating to "sledging" or not "walking" to a perfectly legitimate appeal. His commitment to the coaching of younger players displayed both technical knowledge and sensitivity. Encouragement and constructive criticism were his keywords, although he was not averse to a short sharp word of disapproval if the occasion demanded." Geoff Wills, former President (pictured here with Sandy at Arundel)
Sandy Ross's career with Sussex Martlets spanned 45 years from 1964 to 2009. He served on the committee for thirty of them and was chairman between 2002 and 2007. He took 838 wickets for the Club (in 606 matches) and 3,298 in all. We can be this precise because Sandy kept a detailed record of every game he played.
With three-quarters of his wickets being captured elsewhere, Ross's influence in the wider cricketing world was probably greater than that of Campbell or Harrison, even if he did not bat as well as either or play first-class cricket. The leagues were a factor. Once they reached the south in the early 1970s, leading players were expected to put their league club first.
The three seasons when Sandy took over fifty wickets for the Martlets were those immediately preceding the formation of the Sussex League. His most productive years for the Club were in his early twenties whereas those of Campbell and Harrison occurred during their forties. It is worth noting though that, over an entire career, his inswingers and leg-cutters claimed over twice as many victims for Sussex Martlets as for any single other team.
Finally, a hypothetical question. Would an All-Time Sussex Martlets XI have room for three medium-pacers? The answer has to be yes.