The Sussex Martlets Golfing Society
The Sussex Martlets Golfing Society is an integral part of the Club, the great majority of its members either being or having been active cricketing members.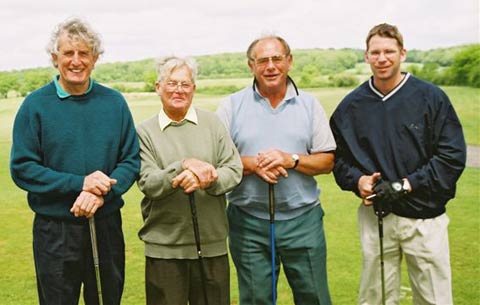 The Society was formed in about 1920 when little or no cricket was played on Sundays, and the gentlemen or amateurs usually played golf. The Sundias-Smith family would entertain the golfers of the visiting County sides to Hove at the West Hove Golf Club, and often asked their Sussex Martlet cricket friends to join them. The idea of starting the Martlets came from those two great Sussex games players J K Mathews and A E R Gilligan, the latter the then County cricket captain. Matches were arranged with Sussex Clubs in the off-season, the format being two ball foursomes. The Society has never had a course of its own.
The Martlets Golfing Society continues to flourish with over fifty active playing members. The Society plays nine matches in the months of March and April, and August to October including Royal Ashdown, West Sussex, Piltdown, Cooden Beach, Seaford and Rye. Additionally there is a Martlet golf day normally held at Seaford GC in mid September: 18 holes followed by a late lunch. It is always a fun day and a great opportunity for new Martlet golfers to introduce themselves to the world of Martlet golf. We still like to play foursomes but the four ball format is now played in some of our matches. The Society is run by Hon. Secretary Adrian White.
How to Join
Membership is open to any playing or non-playing Martlet. Additionally, the committee is happy to consider "golfing" membership for anyone who has played cricket in Sussex but is not a Martlet but who would like to play Martlet golf. Any such candidate should be proposed to the Hon. Secretary by an existing member.
How to Play
Any Martlet member who would like to play in one of our matches will be most welcome. Just ring or email the match manager listed on the fixtures page – he will be delighted to hear from you.