Annual Dinner and other events
Now with a headline like that, our younger members thoughts might turn to Facebook and Twitter and if they did, I am pleased to say the Martlets use both communication platforms, and they both have feeds on the Club's website.
But the real purpose of this email is to let you know about a number of social events taking place this autumn, and in particular the Club's Annual Dinner.
Annual Dinner
The Club's Annual Dinner will take place at the Hove County Ground on Friday, 14 October at 7.00pm.  Held in the Long Room, the Club's Annual Cricket Awards will be made and you will be entertained with after dinner speeches.  And there is of course the Chairman's multi-choice quiz – last year on the subject of The Martlets – to keep you amused during the evening.  Save the date for your diaries – more details to follow soon.
Tuffers Comes to Hove
The Martlets are supporting the Sussex Cricket Foundation who are putting on a fundraising lunch with guest speaker PHIL TUFNELL.  Being held in the Focus Group Boundary Rooms, and hosted by Roger Dakin, this will be an excellent and entertaining lunch.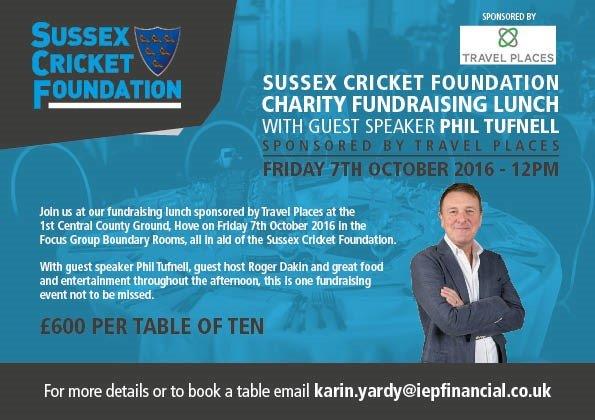 Already a sell out, with no tables left to book, the Martlets have secured a table of ten.  At a cost of £60 each, get in touch with our social secretary Paul Walker if you wish to attend.  Paul, myself and our President Chris Snell are already on the table.  Paul can be contacted on 07973 242105 or by email.
FACCC Christmas Lunch
And looking further ahead, we are taking a table at the Xmas lunch at the Castle, to support Arundel where we play eight games each year.  Keep lunchtime on Friday 9 December in your diary to start the run up to Christmas (yes there are only four months to go!).
And finally …
If you cannot make the FACCC Christmas lunch, or you just cannot get enough turkey, there is always the final event of the year, the Sussex Cricket Foundation lunch at the Grand Hotel Eastbourne on Friday 16th December.  Contact former Martlets chairman Nigel Russell by email for more information or to book your place.