Martlets
West Chiltington
Venue: West Chiltington & Thakeham CC
Time/Result: Win - by 127 runs
---
Match Report
Sussex Martlets win in the sun at West Chiltington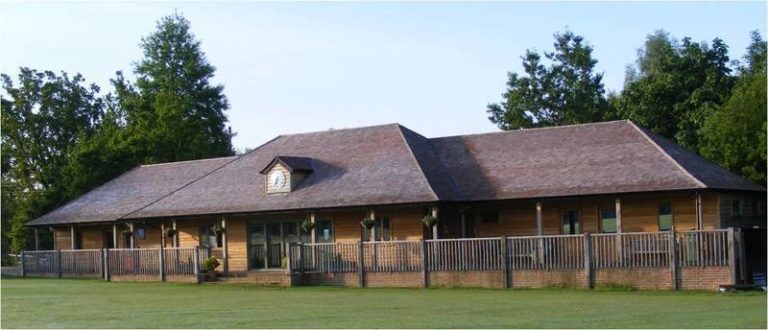 A favourite fixture for the Martlets lived up to the reputation that Deggsie has forged over the years. Under the auspices of the non-playing Chairman, an incredibly youthful and energetic Martlets team was assembled, with the eternally youthful Robin Frean and Joe Akers-Douglas providing the needed experience. On a beautiful day and flat pitch, Martlet's skipper, Hector Loughton, won the toss and had no hesitation in batting first. Peter Lamb and debutant Harvey Box strode to the crease. The quality of the pitch was immediately evident as Box hooked the first ball he faced for 6. Both openers fell soon after rapid starts (Box 8, Lamb 15), but Tom Fairfax and Loughton took up the mantle, assembling a good partnership. A partnership of 92 ensued before, knowledgeable about the quality of the teas and presence of a bottle of wine, both Fairfax (41) and Loughton (56) were caught. Lunch was taken with the Martlets 180-4.
Ed Fairfax and Frean continued the assault after lunch, striking boundaries with aplomb. Fairfax (40), whose innings consisted solely of boundaries, was unfortunate to miss out on a well-deserved half-century, but Frean had no trouble, bringing up the milestone with a maximum. Frean (51) fell to spinner Hugo Gillespie, who in partnership with young leggie Toby Taylor, bowled well to restrict the run-flow. But with the declaration closing in, the powerful lower order of Akers-Douglas (9), Kemar Small (11), Jordan Shaw (6) and Nathan Cooper (13no) brought the Martlets up to 293-9 dec. off 45 overs, giving West Chiltington and Thakeham 45 overs back to chase it down.
Loughton 56          Rowat 3-65
Frean 51               Gillespie 2-13
In the end, a possible chase never materialised due to the quality of the Martlets bowling. Sporting a very balanced attacked of 4 seamers and 2 spinners, the Martlets were incredibly assiduous in their approach. Openers Shaw and Small bowled with great pace and accuracy, ably supported by some smart catching in the cordon. Shaw picked up 2 wickets in his 5 overs, whilst Small was incredibly unfortunate not to pick up a wicket during his excellent 6 overs. Youngsters, James Brehaut and Cooper took up the mantle and continued where the openers left off, bowling with good pace and accuracy. Brehaut was again extremely unlucky not to pick up a wicket, building up the pressure for Cooper to take 2 at his end, one a very clever slower ball that did for the opener who was set on 47. The spin of Box and Frean brought chances with seemingly every ball, with Box picking up wickets with his 6th and 7th balls, leaving him on a hattrick (his 2nd wicket was a genuine Gatting-esque dismissal that would have defeated the majority of batsmen). Whilst the hattrick was not to come, he had staggering figures of 2-2-0-2.and duly picked a 3rd wicket in the following over.  In attempt to boost the scoreboard, Loughton brought himself for some buffet bowling, which was duly snaffled up, but in the process burgling 2 wickets. With the opposition 9-down, Cooper returned to take the final wicket with another crafty slower ball, seeing West Chiltington bowled out for 166.
Elliot-Monday 47              Box 3-9
Taylor 36                         Cooper 3-26
With impeccable timing, the Chairman returned to witness the victory. An excellent fixture all-round, being played in exactly the right spirit. As always, West Chiltington proved to be excellent hosts. A big thank you to all involved.
Hector Loughton
Match Manager
---
Batted first team:
Sussex Martlets
Batted first score:
293 - 9
Batted first leading batters/bowlers:
Loughton 56 / Frean 51 / Rowat 3-65 / Gillespie 2-13
Batted second team:
West Chiltington and Thakeham
Batted second score:
166 ao
Batted second leading batters/bowlers:
Elliot-Monday 47 / Taylor 36 / Box 3-9 / Cooper 3-26
---
Go back to all fixtures in 2018
For detailed information on each venue, please visit our Venues page