Martlets GC
Rye GC
Martlets GC vs Rye GC
---
Match Report
Golfing Society
Match v Rye Golf Club
9th October 2022
AM Pairing and Results
Match
Sussex Martlets
Result
Match
Opposition
Result
1
Peter Baxter &

Ben Burrows

1
1
Sam Andrews &

Hugh Betts

0
2
Steve Pook & Dan Jackson
0
2
Steve Barten &

Charles Thacker

1
3
Peter Scramanger &

Simon Ballie-Hamilton

1
3
Patrick Hole &

Martin Pryke

0
4
Mark Stevenson &

Andy Rogers

1
4
Henry Somerset &

Oliver Saxby

0
5
Michael Phillipps &

Charlie Hartridge

0
5
David Llewellyn &

Philip Chatterton

1
6
Stuart Ritchie &

Tim Woodcock

1
6
Neale Hopper &

Richard Stokes

0
7
William Forster &

Robert Forster

0
7
Nick Holmes &

Robert Taggart

1
 
AM Result
4
 
 
3
PM Pairing and Results
Match
Sussex Martlets
Result
Match
Opposition
Result
1
Peter Baxter &

William Forster

0
1
Sam Andrews &

Nick Holmes

1
2
Robert Forster &

Ben Burrows

0
2
Steve Barten &

Martin Pryke

1
3
Michael Phillipps &

Simon Ballie-Hamilton

0
3
Henry Somerset &

Neale Hopper

1
4
Charlie Hartridge &

Andy Rogers

1
4
Charles Thacker &

Richard Stokes

0
5
Tim Woodcock &

Steve Pook

0
5
Robert Coleman &

Robert Taggart

1
6
Mark Stevenson &

Peter Scaramanger

1
6
Hugh Betts &

Philip Chatterton

0
7
Dan Jackson &

Stuart Ritchie

0
7
David Llewellyn &

Oliver Saxby

1
 
PM Result
2
 
 
5
 
Match Result
6
 
 
8
Match Report
On a bright October morning the Martlets arrived at Rye G.C. located between Romney Marsh & Camber Sands, full of anticipation and hope for a win in the 2022 fixture.

The morning result was promising which saw the Martlets go into lunch leading four matches to three, which so easily could have been a bigger lead had several of the anticipated strong pairings performed to expectation.

The afternoon pairings did not fare well, wherein the Martlets only secured 2 points from the seven available. The Rye team clearly lunched more carefully than the Martlet team, resulting in Rye securing wins in five matches to run out winners 8 to 6. Looking back, it was a smart move by Patrick Hole, Rye's match manager to bring in two fresh players for the afternoon pairings to strengthen Rye's team.

Notable mentions from the Martlet pairings were the morning and afternoon wins by Peter Scaramanger, Mark Stevenson and Andy Rogers. Tim Woodcock playing in his first Rye match secured a morning win with Stuart Ritchie but was not able to repeat this in the afternoon.

Despite the result, everyone commented what wonderful hosts the Rye team were in welcoming the Martlets with a warm and generous hospitality that typifies this highly valued fixture.

The Martlets would like to thank the Rye team and club staff for making us most welcome and providing old and new Martlets with a fantastic day on this wonderful old links. We look forward to returning in 2023 with a strong team to reverse the 2022 result.
Image of the 15th hole at Rye with the clubhouse in the background.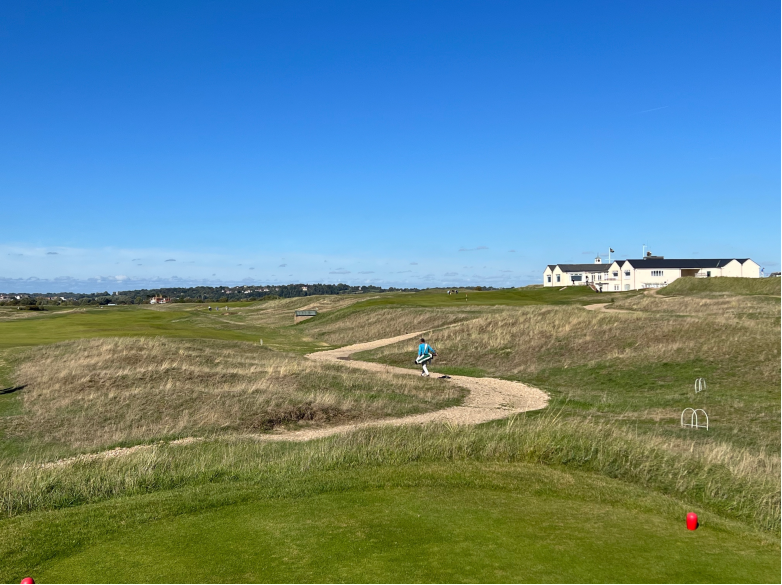 ---
Go back to all fixtures in 2022
For detailed information on each venue, please visit our Venues page