Over-40s
Rottingdean Over 40s
Time/Result: Won by 58 runs
---
Match Report
Martlets have their chips (with optional curry sauce)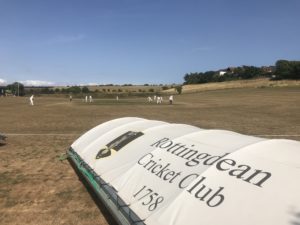 A scientific  experiment is good if the outcome is within 10% of the expected outcome , well the MM was just within that metric regarding his team with the mysterious non appearance of one fifth of the bowling attack.
Crucially the toss was won in this 40/40 match and Julian Hunt and Mike Loveday set out to the green oasis in the parched outfield. With the score at 51 , Mike returned for 13 thanks to a sharp catch to change for tea, quickly followed by the skip, adjudged lbw. When John Goodacre followed for 10, the,score was looking slightly perilous at 79-3. Dave Christmas joined the now blossoming Jules for a partnership of 127 involving some stout hitting taking the score 206 off 27 overs including both drinks breaks at which point Jules was retired for 124, After that the,score climbed,steadily if unspectacularly to 286-7 at the innings close. Dave Christmas 86* and minus one hamstring!
Following a substantial tea, the Martlets 10 took to the field and a tight opening spell by Deepak Kapadia and Paul Lack (2-22) left RCC at 58-2 after the first 16 overs. With D.C. not wanting to bowl it was a case of splitting the remaining overs so no one bowled 8, especially as Jules had already had a game! So a variety of actions were seen with varying success , Mike Loveday (2-19) settled into a rhythm and as soon as this was pointed out, produced three high full tosses followed by a wicket as the umpires showed leniency. This meant he had to be replaced by the pies of the skipper whose main challenge posed was "where should I hit this next?", this cunning strategy yielded 3 wickets, the cost being unimportant at this stage as RCC finished 58 short.
It was a game that would have benefited from a different format, a better knowledge of relative strengths and maybe a batting restriction.
3 adjourned to the beach front chippy to contemplate life, wind farms and why a man with a dog allergy persisted in sitting on the next bench on his phone while Neil's dogs roamed free…
Highlights
1) Amongst much stout hitting, Evette smashing one back over the bowler for 4
2) The skip declining batsmen retiring at 40 at the toss
3) Paul's photography as evidenced above.
4) The glorious sunshine as compared to mist and drizzle of the past two years showing RCC off at its finest.
5) The discovery by Messrs Loveday and Hunt that they attended the same prep school with our part-time spectator on the day, Chris Snell, as headmaster. There was sufficient age gap that they didn't know each other but the stories they told …..!
---
Go back to all fixtures in 2018
For detailed information on each venue, please visit our Venues page