Time/Result: Won by 1 wkt
---
Match Report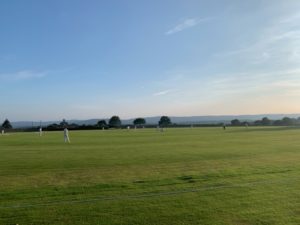 Martlets Over 40s V Petworth Park CC at Petworth Park
Sunday 5th September 2021
Petworth 100 all out (29.4 overs)
Martlets 102-9 (36.2 overs)
Martlets win
What is required by a greedy captain for the perfect cricket match?
Stunningly beautiful ground.
Glorious weather.
Friendly (and slightly hungover) opposition.
Barrel of local (within 2 miles) freshly brewed IPA.
Wonderful group of Martlets.
Everyone gets a bat.
Everyone who wants a bowl gets to bowl.
Skipper takes the catch of his life to store away for a cold, sad, cricket free winter night.
Hopelessly close finish.
A Martlets win.
As always here the weather was lovely and the toss was lost. We were duly sent out to field. Willy Boulter was used to the Deli-esque conditions. The milky sunshine over the Downs got hotter and hotter. We loved it, especially given the horror weather of the so-called summer that had cruelly put paid to so much cricket.
The Marltets seized the day. Fine opening partnership of Cashinella and Beechey was ably backed by some brilliant fielding. Great grabs by Mudders, Ferns (sliding in on his knees) and Beechy (one handed, nonchalant – like plucking an apple on his tip-toes). Yvette prowled the covers scooping up all that was struck towards her.
John Goodacre, gracing the Martlets for the first time this season, was a font of wisdom. He`d clearly been aching to advise on all aspects of field placing for some months.
Despite a gritty partnership between Westmore and Rees, Murray and Messenger were equally impressive. Michael was just too accurate (in combination with fine keeping, including his first of 2 stumpings by Savage). MM had to be removed from the attack, so as to prolong our day in the sun. Sure enough, within a few balls Walker was being tonked for 6.
In hindsight, as will be revealed, the skipper was being naïve. In any event by the final ball of his 5th over, PW had a hat-trick and a 4-for in his sights. He got neither! However, modesty prevents the author spending much more than a couple of paragraphs on "the catch".
In essence a full length, one-handed, diving miracle, off a well stuck drive, at about ankle height. Shock and disbelief descended until Ferns, at mid-off, screamed "I saw that, I had the best seat the house". It was so preposterous that the catcher, (and many of you, good readers, will find this more extraordinary than the catch), was too astonished to celebrate.
Petworth too were astounded and crumbled to 100 all out as they failed to process such an absurd feat.
Pints of IPA were enjoyed between innings, along with players` home-made sandwiches (hopefully for the last time for many seasons). Tina`s cake supplies went down very well.
The Martlets began cautiously with Willy Boulter`s steady 10 after an hour at the crease. Who could blame him hanging around with such splendid views of the House? In that time Ferns, Goodacre and Burton had been and gone. Little did we know Willy`s would be the 2nd highest score for us!
But we only needed a ton + 1! At 47-5 we were shaking. Stuart Ritchie steadied the ship, with 32 in an hour and 20 minutes. Oh the joy of not having to rush. When SR was bowled the score stood at 77-6. It was 6pm. Surely the skipper wouldnt have to get out of his shorts, let alone get his pads on?
Within 20 minutes, and the departure of Savage, Messenger, Cashinella and Beechy, it was full on panic stations.
On the previous Thursday all Walker had to do was survive 3 balls against the Hurlingham Club to allow Toby Pullen to get to 200. He failed. Yet Pullen had played one of the great Martlet innings of all time.
All that was required – according to his team – on this occasion, was that the over was completed without the loss of another wicket. Then Mike Murray could win the match.
And in the 2nd miracle of the day that is what happened!
Many thanks to all who took part, especially Yolanda for an immaculate scorebook and Jim Lock and Mr Andrew for umpiring. The appearance of our own "Barmy Army" including (it`s notorious leader) Robin Carr, Neil Bushell, Messenger in-laws and Jamie O`Meara, certainly helped inspire us.
Once again Petworth were wonderful hosts and the game was played, as ever in a sporting, exceptionally friendly spirit. We really will have to join them at their annual pre-Martlet match party next September!
PW
---
Go back to all fixtures in 2021
For detailed information on each venue, please visit our Venues page