Juniors
Junior T20 for the Chris Snell Salver
Juniors vs Junior T20 (BofB & Hoggets)
Venue: Hurstpierpoint College
Time/Result: Won (2 games)
Umpire: Jim Gee, Graham Wilsher & Ian Farrell
---
Match Report
Inter Club Junior T20 Tournament for the Chris Snell Salver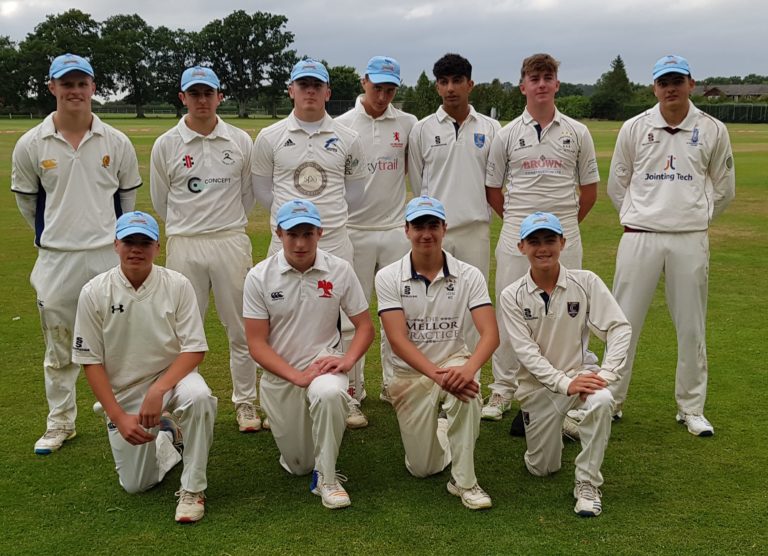 We were described as being in a weather "halo" by the Hogs manager as one shower after another seemed to skirt the Hurst ground with teams only having to leave the pitch twice during the day. In short it was amazing that we managed to complete the competition.
—–
Match 1
Junior Martlets 229-7; T Shepperson 116, J Willis 54
Junior Band of Brothers 126; J Gander 3-10
The first game was between the hosts, the Junior Martlets, and the Band of Brothers. Nathan Cooper kept his team happy by winning the toss and electing to bat. Toby Shepperson and Ben Caiden made a forceful start before Caiden was caught with the score on 33 in the third over. Alex Bushell and Sam Clark rapidly followed before Bertie Foreman joined Shepperson to stabilise the situation. Joe Willis' free flowing style suited the situation as he and Shepperson played many fine shots to take the Martlets to 229 off their 20 overs. To score a hundred in a T20 is no mean feat and Toby Shepperson's 116 was an outstanding piece of batsmanship.
The band of Brothers started well and had moved their score to 90 in the tenth over before the second wicket fell. But at this stage the Martlet bowling took a stranglehold so that they were six down two overs later and bowled out for 126 before the 20 were completed.
—–
Match 2
Junior Band of Brothers 190-6
Hampshire Hoggets 87 all out
—–
Match 3
Hampshire Hoggets 126-6; B Foreman 2-11
Junior Martlets 128-2 in 12.1 overs; J willis 70*
The Hoggets won the toss and decided to bat but found the ball difficult to get away throughout their innings with all seven bowlers used by the Martlets keeping it tight throughout. They ended with a score of 126 for 6. Although Hasim Riaz and Ben Caiden fell cheaply by the time the score was 25 for the Junior Martlets, Joe Willis (70no.) and Sam Clark (36no.) attacked the bowling and scored quickly so the score was overtaken after 12.1 overs. In an excellent innings Joe Willis hit 5 sixes and 7 fours.
—–
This is the fourth year of the tournament and it is the first time that the Junior Martlets have won the salver and they did so in fine style.
---
Batted first leading batters/bowlers:
Batted second leading batters/bowlers:
---
Go back to all fixtures in 2019
For detailed information on each venue, please visit our Venues page