Juniors
Junior Band of Brothers
Time/Result: Won (63 runs)
---
Match Report
Report by John Bettridge
Junior Martlets (219 for 8 in 40 overs); Will Futcher 73, Harry Moorat 50, Toby Shepperson 32, Ed Fairfax 26 beat Junior Band of Brothers (156 all out in 35 overs), Will Futcher 4-9, Toby Shepperson 2-28, Nathan Cooper 2-40, by 63 runs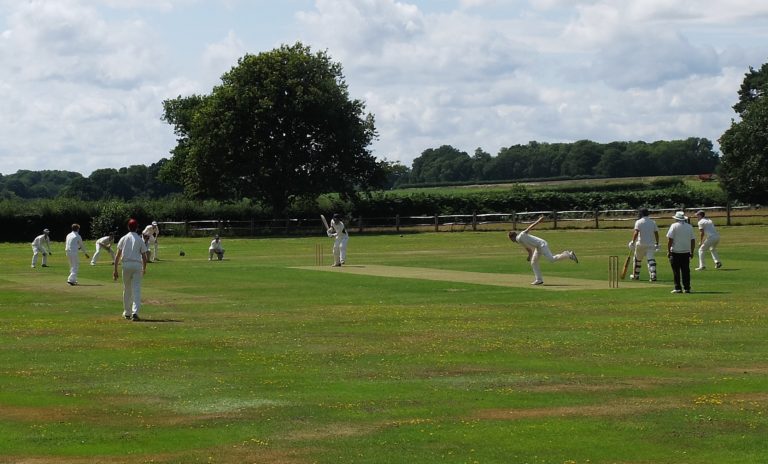 A watchful Harry Moorat on his way to his half century
The Junior Martlets gathered for the first time of 2017 under the captaincy of Harry Rollings at the beautiful Stonewall Park ground. This is a real "country house" ground where the Fleming family made both teams exceedingly welcome and this set the tone for the afternoon. The game was the usual 40-over format that we have adopted for our afternoon games.
The Junior Martlets having been put into bat Alex Margarson and Will Futcher from Chichester opened the innings only for Alex to be taken by surprise by one that kept a bit low early on. Harry Moorat joined Will and they showed watchful maturity in building a sound platform so that by the half way stage the score had reached 97. Both fell to some looping spin that didn't arrive at the bat as soon as expected but not before they had reached 50 or beyond. The story was similar for most of the middle order, although Ed Fairfax began to accelerate during his cameo innings. Toby Shepperson played some fine shots and was left undefeated at the end and the Martlets completed a very acceptable 219 for 8 by the close of the innings.
Ross Whyte's opened up with real pace, although the direction wavered occasionally but with Joe Seaton bowling with real control at the other end scoring was difficult. The pressure continued to be applied by the medium pace of Nathan Cooper and the spinners Toby Shepperson and Adam Cooper. Nathan eventually took the first wicket in the 13th over with score on 49. The batsmen were effectively pinned down at this stage and Toby Shepperson was the next to strike with a caught and bowled to remove the BB's captain after the half way point with score on 82.
After the spinners ran out of overs Harry Rollings introduced the medium pace of Alex Margarson and occasional spin of Will Futcher. With an increase in the scoring rate required to approach the target both these bowlers induced errors and removed the lower middle order rapidly and Will ended with the impressive figures of 4 for 9 off 4 overs. The bowlers were backed up by good catching and ground fielding so the Martlets never really eased the pressure while in the field.
Above all the spirit and teamwork made for a most enjoyable afternoon. My thanks to all for that and to Barry Peay for umpiring and Tony Gibbs for christening the new scorebook. I reserve a final word for Ross Whyte, our "overseas player", who made the tremendous effort of getting to Kent via the car ferry from the Isle of White.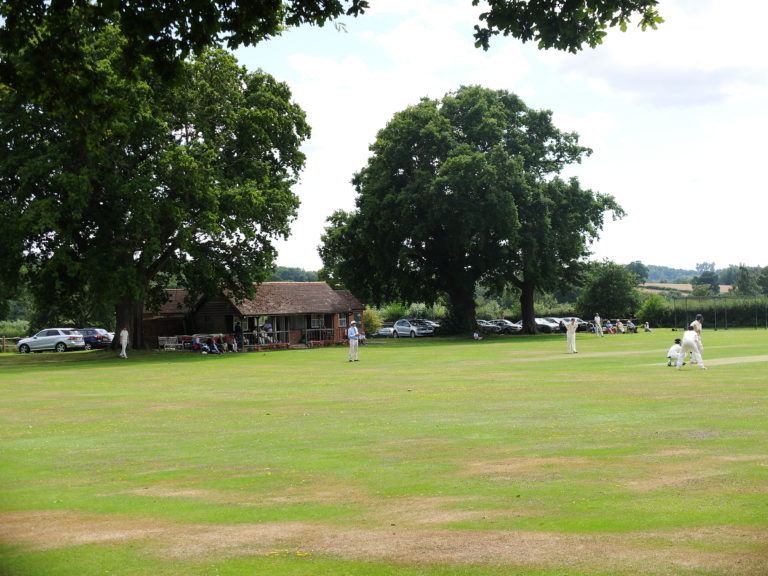 ---
Batted first leading batters/bowlers:
Batted second leading batters/bowlers:
---
Go back to all fixtures in 2017
For detailed information on each venue, please visit our Venues page