Martlets
Hurstpierpoint College
Venue: Hurstpierpoint College
Time/Result: Lost (7 runs)
---
Match Report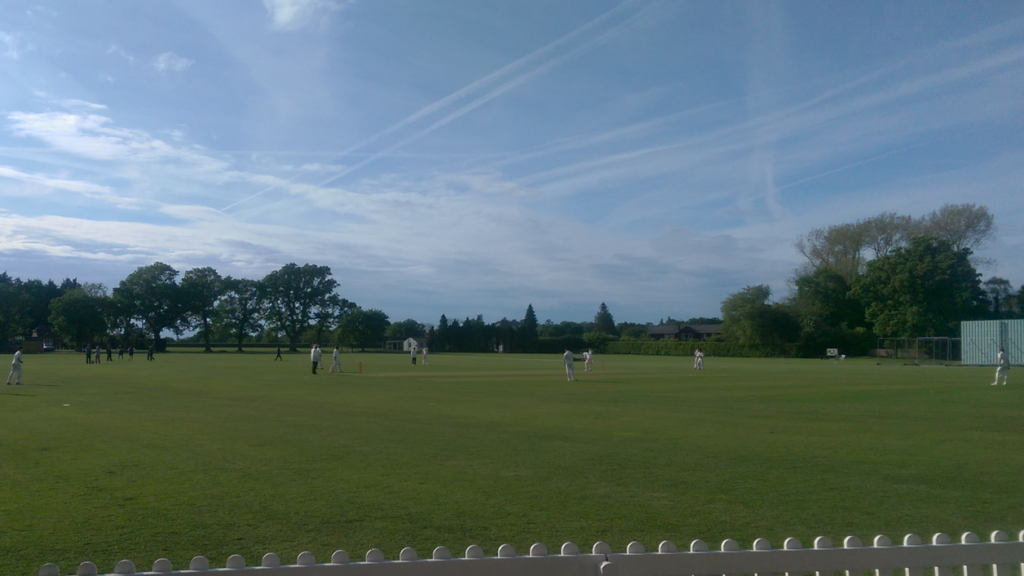 Report by James Waylett
Hurstpierpoint College (223-8 from 35 overs; R Whyte 108) beat Sussex Martlets (215 all out from 34.4 overs; M Murray 59, R Sharma 53) by seven runs
Hurstpierpoint College has always felt like a home away from home for the Martlets, with its ever warm hosts and magnificent setting. The weather forecasts for the day was mixed and all had their fingers crossed that rain would not interfere.
Hurstpierpoint won the toss and elected to bat. They got off to a shaky start when opening bowlers Rob Sharma and Jacob Montgomery found some early movement with the new ball in overcast conditions.
After eight overs the hosts were struggling on 22 for three with Montgomery claiming two wickets and Sharma one. (Montgomery finishing with figures 7-0-39-2)
R Whyte and J White set about rebuilding the innings, making headway until the latter picked out Peter Lamb at mid-on from the bowling of Carl Shankland leaving them 62 for four
Again Hurst had to rebuild and again they did so with great effect, R Whyte showing his class with a magnificent 108 from 74 balls, greatly supported by G Axton-Miles (39) who had a slightly unorthodox technique (clearly benefiting from the coaching of former England and Sussex all-rounder Michael Yardy). Their partnership of 111 put Hurst back in the game.
Eventually both fell, Whyte succumbing to the bowling of Michael Murray and Axton-Miles to Lamb. The death bowling of Murray and Sharma helped prevent the hosts from pushing their score completely out of reach but Hurst still managed to finish on an impressive 223 for seven from their 35 overs.
The sun came out as the Martlets set about their run chase. Murray (59) and Nick Ratcliffe (12) set a solid platform with an opening partnership of 86 but both fell in quick succession. Hurst often showed their youth and athleticism in the field, one piece of fielding in particular by Whyte leading to a direct-hit run out of Murray.
When the chase looked like it might falter, a swashbuckling innings from Lamb amid some hostile fast bowling put the Martlets back on track, Lamb eventually fell for 26, leaving the Martlets 119 for four off 24 overs.
With the run rate climbing rapidly, victory for the Martlets looked like it might fall beyond reach but some brutal hitting from Sharma (53 from 38 balls) with support from Chetan Patel (13) reignited the game. Sharma's bombardment of the Hurst paviliion (positioned at "straight midwicket") pulled the Martlets back into the game but he eventually fell attempting his seventh six of the innings, caught at long-off by White off the bowling of H Grayston.
Sharma's wicket in the 30th over and Patel's dismissal in the 31st left the Martlets 186 for six requiring 38 runs from 24 balls.
Some good death bowling under pressure by J Seton and H Grayston made it difficult for the Martlets and more wickets fell in the scramble for the line.
In a tense final over with 14 runs needed and only two wickets in hand, some precision yorkers from Grayston made it difficult for the Martlets batsmen to find the rope, Grayston bowled Joe Akers Douglas (6), then Joe Waylett (12) was run out trying to get back on strike in the hope of hitting boundaries off the final two balls, thus leaving the Martlets nine runs short of victory, all out for 215.
Overall it was a thrilling contest and the game ebbed and flowed but Hurstpierpoint college were deserved victors.
---
Batted first team:
Hurstpierpoint College
Batted first score:
223-8 (35 overs)
Batted first leading batters/bowlers:
R Whyte 108
Batted second team:
Sussex Martlets
Batted second score:
215 all out (34.4 overs)
Batted second leading batters/bowlers:
M Murray 59, R Sharma 53
---
Go back to all fixtures in 2016
For detailed information on each venue, please visit our Venues page