Time/Result: Lost by 7 wickets
---
Match Report
O'Gorman father and son opening century partnership not enough to stave off the loss to the Hampshire Hogs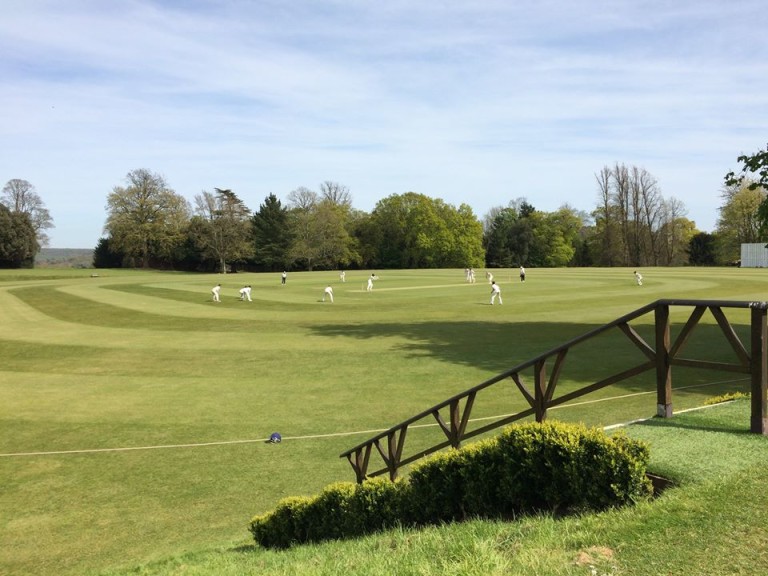 A glorious day at Arundel saw the Martlets play against the Hampshire Hogs. The expectations of a run fest resulted in the Martlets choosing to bat first after winning the toss. Tim and Joe O'Gorman opened the batting and managed to get through to drinks without losing a wicket. Shortly afterwards, Joe brought up his 50. With the score on 120, Tim was out LBW for 49. Dhiren Salvi came in number 3 and got off the mark with a boundary. However, three balls later he too was out LBW and the score was 124-2. Despite thinking about an outstanding Arundel lunch, Joe and new batsman Kemar Small kept their concentration and stayed in until the break. The score at lunch was 143-2. After lunch, Kemar and Joe played watchfully but punished any bad deliveries. Joe reached a well deserved century and Kemar then passed 50. The Martlets declared at 3.10pm on 260-2 off 52.3 overs. Joe finished on 125 not out and Kemar finished on 64 not out.  The scene was set for the run chase.
The Martlets started well in the field, with Kemar bowling their opener in the third over. In the seventh over, Kemar managed to get the other opener to edge behind to wicketkeeper Phil Savage. The good work in the field carried on until the tea break, when the score was 48-2 off 13 overs. After tea, the Hogs number 3 changed the momentum of the game by playing aggressively and using the reverse sweep on no less than four occasions. A couple of dropped catches meant that he brought up his hundred and their number 4 batsman posted a half century. Omkar Khot finally removed their number 3 for 131 thanks to an excellent catch on the boundary from James Self. By this stage, the score was 236-3 and the Hogs were well into the final 20 overs of the match. The Hogs reached the target without further loss with 3 overs left in the day.
A thoroughly enjoyable day was had by both players and spectators alike.
Joe O'Gorman
(delegated to write the match report by his dad who then edited the copy)
---
Batted first team:
Sussex Martlets
Batted first score:
260-2
Batted first leading batters/bowlers:
J O'Gorman 125 no / T O'Gorman 49 / K Small 64 no
Batted second team:
Hampshire Hogs
Batted second score:
261-3
Batted second leading batters/bowlers:
---
Go back to all fixtures in 2018
For detailed information on each venue, please visit our Venues page