Time/Result: Lost by 5 wickets
---
Match Report
Goodwood win last-ball thriller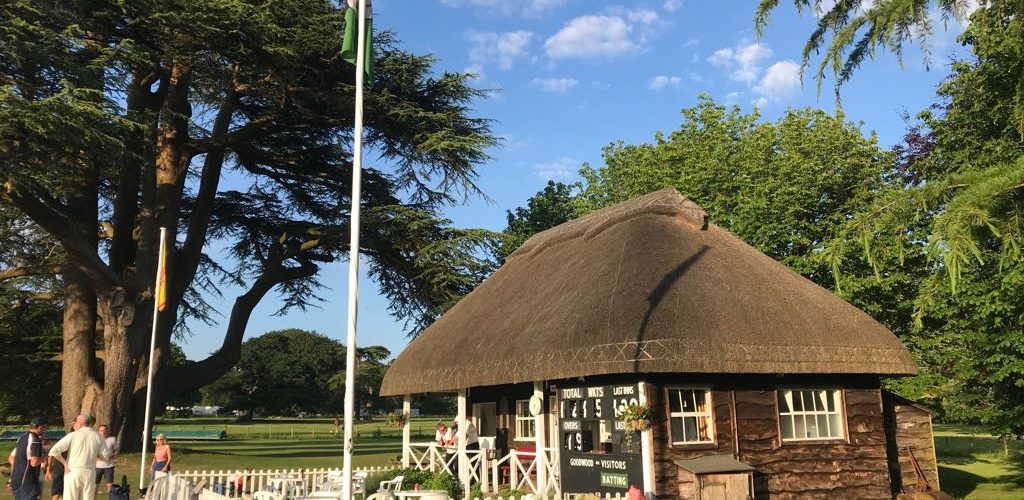 Martlets 120-9 declared (P Lamb 53)
Goodwood 121-5
Report by Paul Walker
Toughest job in world cricket? Captain of England? Sub-continent match fixing investigative team? Australian fair-play guru?
None of the above. It`s match-managing a win for the Martlets at Goodwood. The Skip even contacted his opposite number and told him we had an understrength team ……and then selected some superstars. He stole the oppo's star player (Peter Lamb) and tried to grab another (Jonny Heaven). Admittedly both are practising Martlets and Jonny's lengthy text apology/explanation was a tear-jerker. The suspicion remains that he simply knew what would happen.
Goodwood was as stunning as always, on a beautiful sunny afternoon. This year we were spared the usual construction of the City of FOS (Festival of Speed). The only clue to the forthcoming event was some scaffolding on Goodwood House. The temptation to scale it and invite Lord March to take part in a house swap, for which the captain has an apparent penchant, was fortunately resisted.
Toss was won and we batted. Mmm. "Batted" is perhaps sugar-coating what actually happened in the first 11 overs. 17 for five. Cricketing superstars, Read, Smith and Munt were undone by Heaven (he knew) and Matt Geffen. Talbot and Ritchie (superstars in their own right) went shortly afterwards.
Will Rydon and Peter Lamb then put on 55, before a sprightly 11 from Ashworth and a less sprightly, (but equally vital) 16 from Lack. Lamb top scored with 53.
Declaration (after 42 scintillating overs) took place at 4.30 as tummies were rumbling and no-one wanted to see Walker add further embarrassment to our great club by striding out to bat.
Heaven provided a sumptuous tea and was promptly forgiven for his massacre of the Martlet batting. As we munched through the beef and horseradish sandwiches the odds were considered. Last time out at Goodwood we had been hammered – and we'd scored 238! What hope now?
Dan Smith was full of youthful optimism. "We can do this". Do What? Win?
At 6pm, when the umpires called 20 overs remaining and we paused for drinks an alternative plan was being hatched ……. A cunning draw!
Goodwood had found it as tough to score as we had. Impressive spells by Chapple, Lamb and Read had kept the score down. Ashworth bowled four overs and conceded four runs. The skipper`s brains were going into overload….and becoming scrambled, not for the first time. He took Ashworth off (after a glorious wicket–maiden) and brought on Smith. The score crept up, despite increasingly intense bowling from Lack and some heroic fielding. Munt, behind the stumps, in particular deserved praise.
In a final throw of the dice Walker and Rydon were brought on. Somehow we kept in the game. Some of those dotted around the boundary actually started watching.
Goodwood required a single run for victory from Rydon`s final over. They had lost 4 wickets.
Here we go… First ball, dot. Second ball, dot. Third ball, dot. Fourth ball DOT!! 5th ball CAUGHT AND BOWLED. WOW.
What the fudge! We were in severe danger of actually getting something out of this game……This was the sort of action that really deserved a national TV audience.
Everyone, save for Read, was saving that one vital run. Out strode the smiling Daggubati. Read was placed by the pavilion. 20 yards straighter and we would have got the draw as the ball sailed into the beautiful, humid, dusky sky. It landed, uncaught and Goodwood had their run.
Goodwood Ale, Lager and the odd Ginger beer, were enjoyed for some time afterwards with our hosts.
Special thanks to James Mayne of GCC (and Jonny and the future Mrs H for teas), scorer Richard Geffen and umpires Bryan Tomalin and Les Newcombe.
---
Batted first team:
Sussex Martlets
Batted first score:
120-9 declared
Batted first leading batters/bowlers:
Batted second team:
Goodwood CC
Batted second score:
121-5
Batted second leading batters/bowlers:
---
Go back to all fixtures in 2018
For detailed information on each venue, please visit our Venues page