Time/Result: Won by 35 runs
---
Match Report
Ashworth Jr's five wickets cannot stop Ashworth Snr from leading Martlets to victory
Martlets 218-6 dec (S Carter 98, G Read 49, E Guest 29, F Ashworth 5-50)
Ramblers 183 all out (J Halsted 53, C Settrington 31, E Guest 3-28, P Walker 2-53)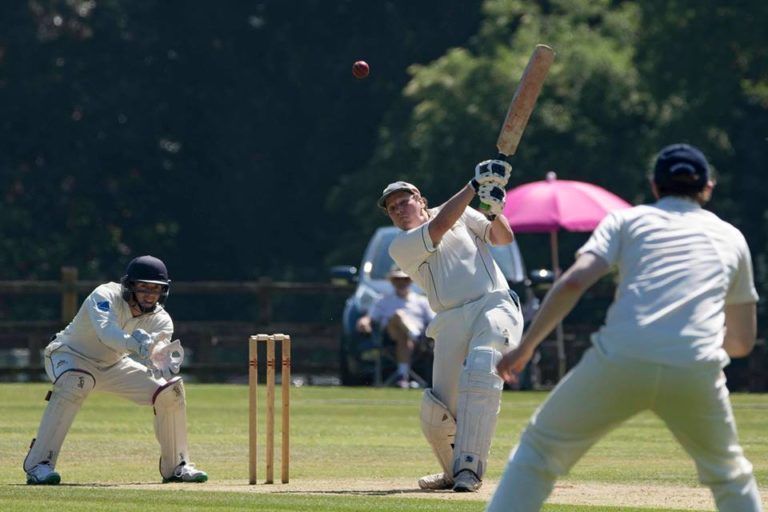 Report by John Ashworth
As a decrepit father takes delight
To see his active child do deeds of youth,
…
That I in thy abundance am suffic'd
And by a part of all thy glory live.
Look, what is best, that best I wish in thee:
This wish I have; then ten times happy me!
— Sonnet 37 (lines 1-2, 11-14) W Shakespeare
Father and son as opposing match managers. What could go wrong? This was the set-up for the return fixture of the newly instigated Johnny Barclay Cup, currently held by the Marlets after last season's thriller at Eton. In case, dear reader, you fear a report of family self-indulgence, there were many delightful father and son sub-plots threaded through a patchwork quilt of an utterly blissful day which delivered – drum roll – a Martlet win.
We won the toss and batted. In strode Sam Carter and Peter 'Jimmy Lamberson' Lamb to face the Ramblers' opening attack of Mikey Roy (the pick of the bowlers last year) and Frankie Ashworth (first game in ages). Frankie's new-found career as a ship-broker (old fashioned liquid lunches on Fridays) offered growth in the timber department to compensate for a lack of match practice but it was he who induced a rash slash from Lamberson to be caught off a skier at backward point with not much on the board.
Not to be outdone in the paternity department, The Duke of Richmond duly arrived to witness his sons Charlie (Settrington to those who know him, and the Earl of March to those who don't) and Will (Gordon-Lennox). Will (who had captained the XI in his Harrow game at Lord's) bowled accurately enough but without success, whilst Frankie continued to chip away with some pace and out-swing. Hector Loughton was unlucky to be plucked out of thin-air by a horizontally diving Nick Russell at backward point before Ethan Guest (an outstanding new talent from Eastbourne) arrived with all the time in the world to play some imperious, classic leg-on-ground cover drives. Nonetheless, Frankie accounted for all four Martlet wickets as his father strode to the crease to join Sam with some shoring up to do and half an hour to survive before lunch. We were great for 29 minutes until – sure enough – Frankie brought himself back and yorked his old man for a five-for before lunch. And, of course, a match-fixing investigation.
George Read resumed with Sam after lunch and suddenly they made the batting look rather easy. Sam opened up like a can of sardines and the Martlets powered on before Charlie Settrington came on to tighten things up with some delightful left arm spin witnessed now by mum (or The Duchess as I should say).
With Sam in the nervous 90s and George in the late 40s, a declaration seemed necessary given the advancing hours. Sam duly skied to Mikey Roy only to be dropped on 98 before missing a straight one in the next over – to be bowled just two runs short of what would have been an amazing century. At the other end, George managed to mistake a bye for a run and left himself stranded on 49 before Trubby smote a huge six to draw a contemptuous veil over proceedings.
Ethan opened with pace and accuracy at one end with Hector at the other. There was plenty of "loving the areas Guesty/Hector – it's coming mate, it's coming" and eventually it did, with Ethan trapping Gordon-Lennox for 5. Keeper Jack Halstead played imperiously at the other end and held the Ramblers together for a fine 53 as his partners came and went, with notable contributions from Charlie Settrington (31) and Freddie Jayarajah (24). Alex Macdonald took us all back to Slough Comprehensive in his black trainers, and his black trainers soon took him all back to the pavilion after Paul Walker executed a perfect dive, swivel grab and throw for a crowd (and team) pleasing run-out.
Johnny 'Eric Bristow' Heaven bowled at Frankie before a nasty hamstring injury (yeah, right, but appreciated the gesture JH) forced Ashworth senior to replace him. Frankie duly responded to this challenge by smashing his old man around the park but as he did so, Paul Walker spotted his own boys happily playing cricket by the roller, Martlet official photographer Malcolm Lamb purred happily as he watched Peter's exploits, Cam Qazi was proud to see his brilliant young keeper son Obaida doing such good glove work. Yup, Fathers and Sons all round.
Jug avoidances by Sam and George were commented upon but the bowler of the fifer stepped in and treated us all to a drink outside the pavilion before the youngsters departed for a party and the Martlets went to the Rabbit.
A great day, a great win … The wish I have; then ten times happy me! indeed.
---
Batted first team:
Martlets
Batted first score:
218-6
Batted first leading batters/bowlers:
S Carter 98, G Read 49, E Guest 29, F Ashworth 5-50
Batted second team:
Eton Ramblers
Batted second leading batters/bowlers:
J Halsted 53, C Settrington 31, E Guest 3-28, P Walker 2-53
---
Go back to all fixtures in 2018
For detailed information on each venue, please visit our Venues page