Time/Result: Lost by 44 runs
---
Match Report
Martlets lose by the sea to a rampant Eastbourne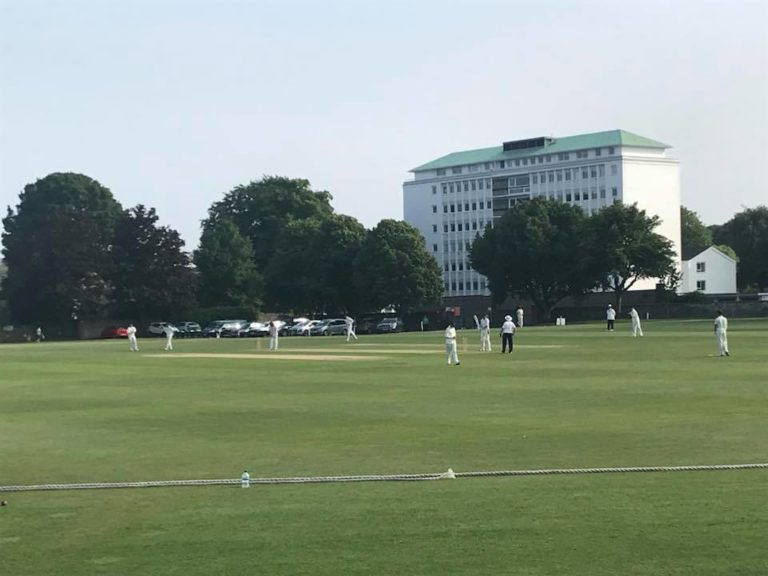 The Martlets took on Eastbourne CC and a hastily complied 11 saw a few new Martlets courtesy of Dan Smith's Ifield entourage as well as a few that almost qualified for their free bus pass.
We were lucky enough to be playing at the Saffrons just a few days after the Royal London 50 over match and the outfield and block was in tip top condition. We got started at 2.30pm after the obligatory starting time mix up – 2pm start on our website and 2.30pm in the ECC fixture book!
Unfortunately the toss was lost, ECC decided to bat (who wouldn't have?) but with a strong opening bowling pair we were hopeful of an early break through. Jordan Shaw started well and had the Eastbourne overseas playing and missing, but it was Matt Sawyer who had the other Eastbourne opener, Taylor, well caught by Sam Cooper.
Unfortunately it would be a looooong time before we saw success again. Mo Qazi and Dan Smith tried their leggies and offies respectively from the sea end while Mahad Ahmad, Sam Cooper and Deepak Kapadia toiled away from the pavilion end. Kapadia finally had the overseas Arms caught for a very impressive 131. At this point we were thinking that a 250 score was on the cards as their run rate slowed, but a hard hit 42no by the Eastbourne no6 got them through to 295. Shaw picked up two wickets, Sawyer, Trubshaw and Kapadia took one each.
After a great tea, we opened with Sam Cooper and the young Ifield opener Mahad Ahmad.  Sam took to the Eastbourne attack and the quickfire opening partnership of 65 was ended when Ahmad was out LBW. Dan Smith and Sam continue the pace and we were looking good as we stayed up with the run rate.
After plundering six sixes Cooper's innings of 69 came to an end and was quickly followed by Smith for 40 and we were 129 for 3. The next few wickets fell cheaply with only Simon Warrender offering any real resistance in the middle order, but the run rate was slowly creeping up. Luckily we had the Jordy and Trubby show to come and we were entertained by some big hitting as Mark made sure Trubby jnr knew who was boss with a massive six over the road.  With the loss of these two, we were up against the run rate and unfortunately it was more than the final three could manage as we finished at 248 for 9 off the allocated  40 overs.
Special thanks to Michael Murray and Dan Smith for their help putting the team together, the great hospitality shown by Eastbourne CC, the umpires and scorer on the day.
NickRatcliffe
Match Manager
---
Batted first team:
Eastbourne CC
Batted first leading batters/bowlers:
Arms 131
Batted second team:
Sussex Martlets
Batted second score:
251-9
Batted second leading batters/bowlers:
S Cooper 69
---
Go back to all fixtures in 2018
For detailed information on each venue, please visit our Venues page