Martlets GC
Crowborough Beacon GC
Venue: Crowborough Beacon Golf Club
---
Match Report
Crowborough Beacon GC retain the Grant Skinner Memorial Shield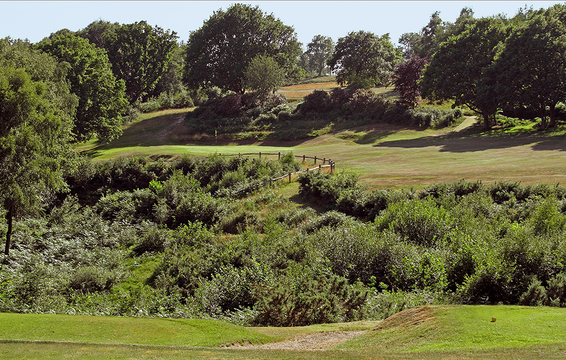 The fourth golf fixture for 2018 was played in almost perfect conditions on one of Sussex's highest points at Crowborough Beacon GC.  All was set fair for a challenging day against a notoriously tough opposition.  The match was played as an eleven a side fixture, after late withdrawals from both camps.
A change from the usual morning and afternoon foursomes, to the slightly longer format of fourball better ball, played over the morning only, has been enjoyed here over the last few years, due to the tough terrain at CBGC.
We have now had two consecutive years where we have been spared the rain, hail, snow, fog and flooding of past years, which I believe makes the decision to shift this fixture from March to June a sensible one.  Let us hope for more of the same in 2019.
Even though a CBGC member for 20 or years, I do believe that The Martlets are always given a very warm welcome and the match, played in memory of our former match manager, Grant Skinner, is always played in a great spirit.  Having said this, CBGC yet again, put out another strong team to try and maintain their 100% record since this fixture was reinstated to our golfing calendar and sadly I have to report the match ended up at 4-2 in the hosts' favour.
Special mention should be made of our two Simon's pairing…Messrs Bulteel and Baillie-Hamilton for a terrific victory over one of the toughest and canniest pairings that CBGC have ever put out.  Reports are that shots were played from all sorts of outrageous positions, most notably whilst playing the par 5 10th hole.  SB was wide of the 9th fairway with his drive,  only to get back to greenside with his second, over tall pines, on this uphill dogleg.  Two enormous shots, with pretty much both feet off the floor shortly after contact – a fine display of athleticism, which contributed to a better ball score of 1 or 2 over par.  No mean achievement, with some sadistic pin positions put in place by the new Course Manager.
Drinks on the balcony enjoying the sunshine and fine view followed the morning's golf and this set us all up for a typically low-calorie roast lunch.  Martlets were given courtesy of the course in the afternoon, which some enjoyed and we look forward to doing battle again in 2019, where we shall hopefully finally get a hold on the Grant Skinner Memorial Shield.
James Goddard
---
Go back to all fixtures in 2018
For detailed information on each venue, please visit our Venues page