Martlets
Christ's Hospital
Time/Result: LOST (6 wickets)
---
Match Report
Christ's Hospital in a comprehensive win where the Martlets left in good heart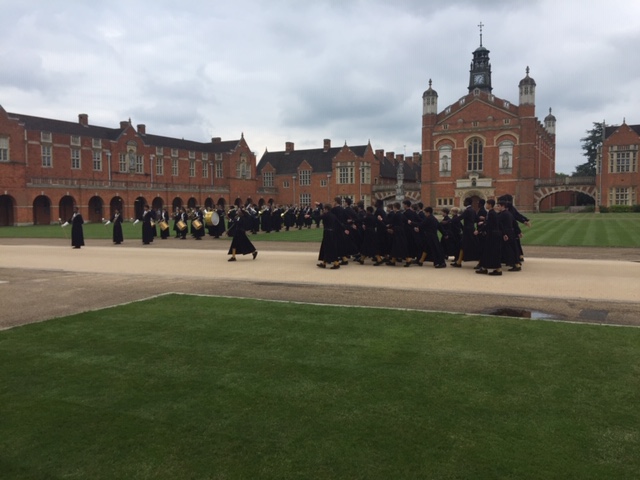 Sussex Martlets 102 (31.5 overs); N Cooper 3-22, A Pinkney 3-16, L Cooper 3-13
Christ's Hospital 103-4 (27.4 overs)
The weather forecast for this match proved troublesome but Sussex Martlets' Match Manager, Stuart Ritchie and Christ's Hospital Director of Sport, Dave Messenger were both keen to get the game played.  The day before, they decided to speak early in the morning of play and with the ground in fair condition, but with rain forecast throughout the day, it was agreed to meet in the hope the match could be played.  Discussions resulted in a 70 over declaration match being agreed – even though the strict laws of cricket do not allow such a possibility – and the umpires including Martlet Martin Bodenham, consented on this occasion.
The side batting first were to have 38 overs and the side batting second the remaining 32 overs or more if they had bowled out the side batting first, which as tradition dictates in this game is the Sussex Martlets.
The Sussex Martlets were down on players with nine scheduled to arrive, only eight were available to take to the field with an overnight injury to Marcus Campopiano.  Christ's Hospital offered the Martlets two of their players and as events turned out, the Director of Sport played a cameo role at the end of our innings, allowing Christ's Hospital to take ten wickets and curtail our batting to 31.5 overs.  Regrettably, none of our batters got going, save for Alex Collins and his 25.  There was also the notable golden duck inflicted on Mark Trubshaw.
Defending a total of 102 runs in just over 38 overs was always going to be troublesome for the Martlets and so it proved.  Christ's Hospital scored steadily with three notable innings (Freeman, Kinnear, Cooper L).  There were times where the Martlets could hope as they took four wickets but eventually the game escaped our clutches with Christ's Hospital overhauling our modest total in 27.4 overs.
The timing of the end of the game could not have been better, as the long predicted rain then fell.  Notwithstanding the curtailed game and the result, the Martlets very much enjoyed their visit to Christ's Hospital once again, and as we retreated to the Bax Castle to lick our wounds, all were in good heart.
Stuart Ritchie
Match Manager
---
Batted first leading batters/bowlers:
Batted second leading batters/bowlers:
---
Go back to all fixtures in 2019
For detailed information on each venue, please visit our Venues page