Juniors
Brighton & Hove City Clubs
Juniors vs Brighton & Hove City Clubs U18
Venue: Hurstpierpoint College
Time/Result: WON (80 runs)
---
Match Report
Junior Martlets complete unbeaten season
Junior Martlets 212 all out (40 overs); Oscar Jago-Lewis 58
B&H City Clubs 132-8
Report by John Bettridge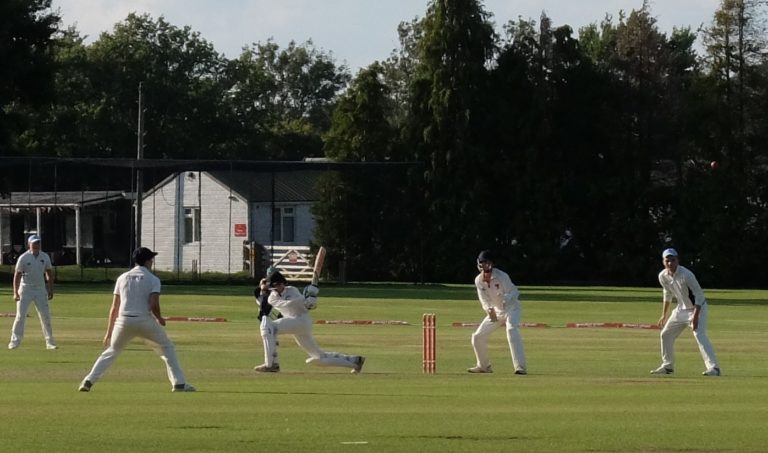 Batting first the Junior Martlets made a very sound start in the hands of Oscar Jago-Lewis and Hashim Riaz who put on 86 for the first wicket. Jago-Lewis rode his luck a little early on but rapidly regained his touch after two weeks away from cricket in the Mediterranean. Riaz played some fine shots before putting one up in the air to find a safe pair of hands. Ryan Trotter joined Jago-Lewis and between them they accelerated the pace scoring 32 off the next 4 overs before the latter also found a safe pair of hands! After this the partnerships were short with people looking as if they had settled and then getting out but the platform was sufficient for the Martlets to have built a defendable total by the time the final wicket fell in the 39th over.
Alex Bushell, the Clubs side captain, opened and was in run scoring mood but his partner fell in the 5th over and the pace became more cautious. The left arm seam of Hugo March produced the first wicket. Nathan Cooper, the captain, proved hard to get away but it was the spinners who put a strangle-hold on the Clubs' batting. Jack Trubshaw turned his left armers and Bertie Foreman's variation with his off spin had the batsmen guessing. Ryan Trotter backed up the bowlers' efforts by taking three outstanding catches, while we saw some fine keeping from Oscar Jago-Lewis that also included three catches. Ryan Trotter also took two wickets to add to his performance in the field. Charlie Tear also chipped in at the end to complete the bowling successes. As the spinners maintained their grip, the target moved further from the grasp of the batting side.
This victory marked the end of the Junior Martlets short Summer holiday season and they ended with the fine record of played 5 won 5 with one game cancelled. I would like to thank all who played for their enthusiasm and obvious enjoyment of Martlets cricket. Nathan Cooper has been a fine captain, often selfless in his approach in order to make sure others have an opportunity before himself. Nothing would happen without the help from the parents, who drive and support. Finally I have a special word of thanks to Michael Foreman who is a genius at finding me new players for the Club.
---
Batted first leading batters/bowlers:
Batted second leading batters/bowlers:
---
Go back to all fixtures in 2019
For detailed information on each venue, please visit our Venues page