Martlets
Brighton Brunswick
Venue: The 1st Central County Ground, Hove
Time/Result: Won by 86 runs
---
Match Report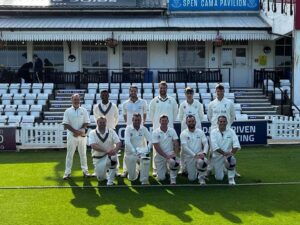 Brighton Brunswick vs Sussex Martlets Sunday 2nd July 2023 – Hove
What a belter of a day. I had the choice of either going to Lords to watch England try and chase 270 more with just 6 wickets left, or enjoy the wonders of Sussex CCC at the First Central County Ground with 10 other cricketing badgers. I chose the latter, and only hindsight would tell me later that I made the right choice.
I won the toss and chose to bat on a sunny but always windy day on the coast against Brunswick who were filled once again with local talent from the Sussex League brought together for an enthralling contest against the other locals of the Sussex League. George Read had a day to remember; after getting a side strain on the Saturday I invited him to open up (what an honour) only to be bowled by a "****ing Seed" first ball. You would have thought his day could only get better from there…
Luke Forster decided he was going to make the most of his match fee in balls faced rather than runs scored with 15 from 51 balls before being bowled by Three Bridges TV's 'Drive on the up' specialist Conor Golding. However, fresh off the golf course Jules Hunt highlighted his high fade spectacularly with 3 wonderful sixes and 7 fours before being caught brilliantly by De Jager (moves like) for 48 off just 43 balls. Aris looked good as always before also being caught behind off Golding only to bring in the 'stag' himself Jordan Shaw who managed to drag himself off the pavements of Brighton and to the wicket at 108-3. Just 62 balls later we had been blessed with 14 fours and 7 sixes (most of which would have been 6s on the normal Hove boundaries). He scored 123 thrilling runs in a partnership worth 160 with Omkar Khot who scored an excellent 39 himself. Ben Davies showed his brute strength at the back end once more with 37 off just 18 balls to help the Martlets to a mighty 332 off 45 overs. Pick of the bowlers for Brunswick were 3 bowlers who all got 3 wickets apiece – Golding, Pyle & Ali.
Ben Davies and Mike Murray started us off as normal with some tight overs before a wonderful slower delivery from Davies got rid of the dangerous Russell for just 11. Solway (Worthing's overseas) came out with real intent and scored freely towards the short boundary, Murray taking the brunt of it unfortunately. A reverse ramp brought about the next wicket for Davies which was gloved to first slip to get rid of the other opener Stevens for just 17. But what came next was so nearly a very rare occasion in cricket. Ben Davies (getting grumpier by the second) looks on in despair as Rebbetts moves a third fielder into the slip corden telling him that the rate is above 9s and he should bowl to his field… Davies runs in, finds the edge straight to Om at third slip, only to drop it! First ball after the field change. In 20 years of cricket, I'm pretty sure that would have been a first for me, but it wasn't to be!
Anway, Leg Spinner Dom Heater was asked to bowl to the short leg side field (due to the skipper wanting the choice of ends) and was unfortunate not to get a wicket as Ready's day got worse by dropping a sitter on the 35 metre boundary. Rebbetts at the other end took a few lusty blows by his fellow Worthing man before thankfully dismissing him caught at third man. An excellent 47 from 35 balls for Solway. A close field and plenty of runs to play with brought regular boundaries for all the batters really, but no one got to 50 as the short but deceiving run up of Aris picked up 4 excellent wickets including the dangerous De Jager (bomb) for 49 off 36 balls. Ready's day was compounded by another drop at mid on before Heater was brought back on (at the correct end) to take two deserving wickets. Brunswick were bowled out for 246 off just 38 overs with wickets shared between Aris, Rebbetts, Heater and Davies. An 86 run victory and a brilliant day for all involved.
Great venue, great people, great tea (more cakes next time though please) and England nearly pulling off a win for the ages. We look forward to hosting Brunswick next season! 🏏
Darryl Rebbetts
---
Batted first team:
Sussex Martlets
Batted first score:
332-10
Batted first leading batters/bowlers:
Batted second team:
Brighton Brunswick
Batted second score:
246-10
Batted second leading batters/bowlers:
---
Go back to all fixtures in 2023
For detailed information on each venue, please visit our Venues page