Martlets
Ardingly College
Time/Result: Lost (1 wicket)
---
Match Report
Ardingly's Tom Clark hits the winning six!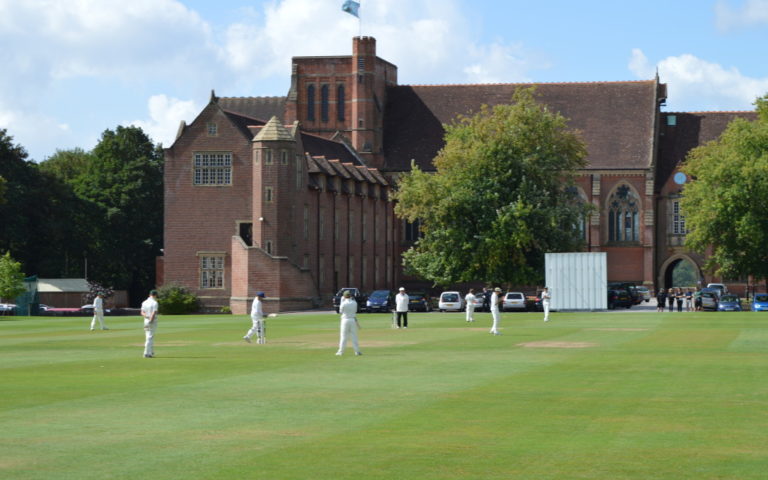 The Sussex Martlets were treated to a batting exhibition on a fine early summer's day at Ardingly College.  The Martlets having agreed to bat first, set a competitive declaration of 250 runs but it was not enough.
Opening with Mornie Lowe from South Africa, the West Grinstead overseas, together with the well-known Marcus Campopiano from Cuckfield, the ship looked steady until Mornie chipped a ball into the covers and was out caught.  Undeterred, Campo continued his progress eventually scoring 94, when he chopped onto his stumps.  Other notable innings were Archie Cooper scoring 43 and the classic schoolboy bully, Mark Trubshaw, also 43 before being run out.  Archie's strike rate was just over 100 whereas Trubbie's strike rate was just over 200.  In a last wicket cameo, chairman Stuart Ritchie scored 11 off an over to get the score to 250 declared.  The Martlets had faced 42 overs and three wickets a piece were taken by Paul McCarthy and Ryan Trotter with two wickets taken by Alex Stephens.
In reply, Ardingly College opened with Harvey Roberts and Tom Clark.  Harvey was the first to be dismissed, but with an indication of how the game would play out, there were already 106 runs already on the board.  The next wicket fell two balls later starting a steady decline by Ardingly as 9 wickets fell in a 50 minute spell, as the College went from 106 for 1 to 177 for 9 and there was a strong hope that the Martlets would be victorious.  Mark Trubshaw's 16 overs yielded 3 wickets for 73 runs and Graham Bennison deceived the oppo into 4 wickets for 11 runs.
But that did not allow for Tom Clark accelerating his innings to 183 including nine 6s and eighteen 4s.  Tom's innings was not chanceless, there was a missed catch in the deep, two dropped catches behind and a missed stumping.  However, there was a sense in the College of a great impending victory and fellow pupils gathered towards the end of the game to witness Tom hitting the running wins with a 6 and a rousing cheer!
Ardingly College were most generous hosts on the day led by Director of Cricket, Keith Wright and their cricket coach Jordan Rollings.  The Sussex Martlets greatly anticipate a return visit next year!
---
Batted first team:
Sussex Martlets
Batted first score:
250-9 declared (42 overs)
Batted first leading batters/bowlers:
Marcus Campopiano 94
Batted second team:
Ardingly College
Batted second score:
251-9 (41 overs)
Batted second leading batters/bowlers:
Tom Clark 183*; Graham Bennison 4-11
---
Go back to all fixtures in 2019
For detailed information on each venue, please visit our Venues page