Martlets
Aldridge Academy
Time/Result: Lost (135 runs)
---
Match Report
Aldridge Academy (316-8 in 48 overs; T Haines 151*; J Burrows 7-90) beat Sussex Martlets (167 in 37.5 overs; M Trubshaw 58*) by 135 runs
During a three-year period in the mid 17th century, Arundel Castle was twice besieged – first by Royalists, then by Parliamentarians. Yesterday Aldridge Academy managed two sieges in just one afternoon – first with the bat in a mammoth first innings, then with the ball as Martlets defences crumbled.
Leading his troops from the front in every way was the Academy captain and opening batsman, Tom Haynes, whose unbeaten 151 was the backbone of a first-innings total of 316 for eight in 48 overs. Having won the toss, Haynes and his opening partner, Bryce Hounsome, immediately proved the wicket and outfield to be every bit as flawless as they looked.
The first nine overs yielded 69 runs as the Martlets opening bowlers – Johnny Heaven and Josh Burrows, the Martlets captain – struggled to adapt to the unforgiving conditions. The introduction of Mark Trubshaw was a success when he dismissed Hounsome (40 from 29 balls) leg-before with his first delivery but it was the next over which threatened (albeit briefly) to change the course of the match for good.
Inspired (perhaps threatened) either by the form of his opposite number or by a foreboding sense of responsibility, Burrows suddenly found his line and length. Liam O'Brien miscued a catch to point and very next ball Oliver Collins inside edged onto his stumps. The hat-trick ball seamed kindly off the pitch and bowled Sam Dobson through the gate. Suddenly the scoreboard – 70 for four – took on a different colour, but it was to prove a false dawn.
No Martlets bowlers were able to exert control and, steered by Haynes, who reached his 89-ball century before lunch, the Academy reached the break at 214 for five. After lunch, Heaven returned for a much-improved second spell while Burrows, bowling unchanged at the Castle end, finished with seven for 90 from 17 overs. Adam Pye, at No 7, made 49 at almost a run-a-ball but Haynes delayed his declaration until shortly after he reached a classy 150.
A product of the county age-groups and second XI, Haynes, 17, is using his time at the Aldridge Academy – a sixth-form college where students major in cricket – to prepare for further education at Loughborough University. His progress will be watched keenly.
A target of 313 to win in little more than 40 overs was ambitious from the outset. Phil Roper (15) and James Cruickshank (36) appeared to relish the pacey opening attack of Jamie Piper (three for 41) and Freddie Grath (two for 54) but after both batsmen were dismissed, the only relish the Martlets had was in the ham sandwiches at tea.
Roper looked unlucky to be given out leg-before to Garth and when Cruickshank followed shortly after tea- caught off the bowling of Tara Norris, a 17-year-old on the pathway into the England women's team – the rot set in.
Rob Bell made 28 but with wickets falling at regular intervals, even hopes of a draw faded. Not that anybody told Trubshaw. Batting out of position at No 9, the tail-end bully took nine balls to get off the mark but then decided that a required rate of about 12 an over was well within his capabilities. Blasting all bowlers to all corners, he reached his half century from 40 balls – aided by some remarkably slack catching on the part of the Academy.
Not that those slip-ups mattered. With shadows lengthening and choral music rolling over the ground from Arundel Cathedral, the final Martlets batsmen was dismissed with eight overs of the final 20 left to bat, Trubshaw stranded and chuntering on 58. Defeat was by by 135 runs.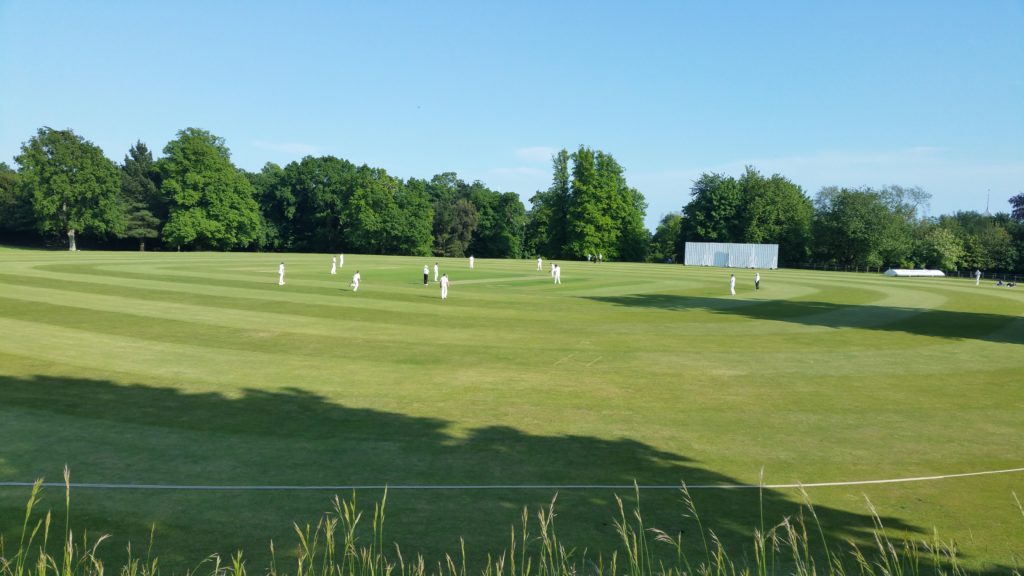 ---
Batted first team:
Aldridge Academy
Batted first score:
316-8 (48 overs)
Batted first leading batters/bowlers:
T Haines 151*; J Burrows 7-90
Batted second team:
Sussex Martlets
Batted second score:
181 (38.5 overs)
Batted second leading batters/bowlers:
M Trubshaw 58*
---
Go back to all fixtures in 2016
For detailed information on each venue, please visit our Venues page