Time/Result: Lost by 9 wickets
---
Match Report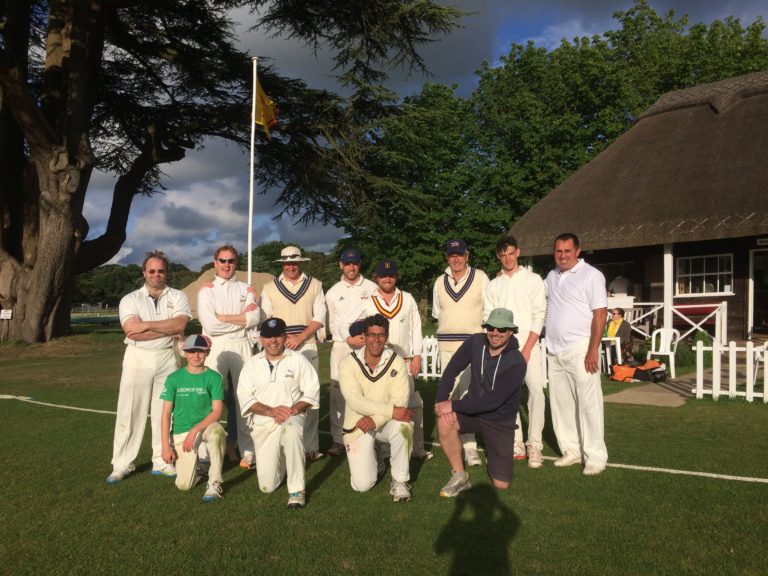 Martlets 238 for 6 declared (44.5 overs)
Goodwood 240 for 1 (39.2 overs)
I wonder if this is what awaits Huddersfield Town in the Premier League next season?
The excitement and anticipation beforehand. A team of colourful characters (and some talent, culture and flamboyance). Wonderful team spirit and at times steely determination. Respected, successful, charismatic, witty manager (Allen). Gorgeous Wags and smiling children. Bring it on.
A good, solid start (a draw at Burnley and a wins at home v WBA and Palace).  The Iago father and son, Richard and Gregory`s opening stand of 41.
A goalkeeping howler jolts the applecart v Man City – George Martin out for 7.
We beat Man Utd at Old Trafford– Harry Munt`s 72 on debut.
Stability and further home wins v Leicester and Stoke, Jason Galley`s 21 and Martin Allen`s crunching 29.
A win at Swansea and a point at the Emirates – Mudders` 44 not out and John Ashworth`s 4.
This is easy, forget avoiding the drop, Champions League here we come. Let`s declare and enjoy a delicious tea ….. So we did.
Then the reality.
Out to field and the optimism lingers – bright draws at Brighton and Newcastle – tight, tidy, but wicket-less spells from Derek Horsham and Mark Chapple.
Further goalless draws at Goodison and Bournemouth – Murray and Walker toiling. But no wickets! We need a striker !!
Finally we beat Chelsea – the opener is spectacularly stumped by George Martin off  a Walker wide. A turning point.
Well kind of.
The cold, dark desperate winter of doom slowly envelopes the optimism. Injuries take their toll. Chapple, Allen and Galleys` time in the upper echelons of their respective sports: rugby, football and pub pool, have finally caught up with them. Walker junior replaces Galley and neither Harry nor Iago junior, nor even Ashers can make a breakthrough, despite impressive cameo spells.
No more points, no more wickets. Relegated by the end of March.
£200m?  I`m still hunting Degs`s match fee !
The Goodwood top order batted well and timed their run rate to perfection. Well done Messrs Smith, Heyworth and centurion Jonathan Millee from South Africa.
Our day in the sun (for good chunks of the afternoon) was fun while it lasted. And so was this match. I hope the Prem`s hospitality is as warm as Goodwood`s was. Beers under the cedars, as always, lessened the pain.
Special thanks to Yolanda for scoring, Bryan Tomalin for umpiring and James Mayne of Goodwood for all his efforts.
(I still can`t wait for the fixtures on 14th June….unless promotion really was a dream).
---
Batted first team:
Sussex Martlets
Batted first score:
238 for 6
Batted first leading batters/bowlers:
Batted second team:
Goodwood CC
Batted second score:
240 for 1
Batted second leading batters/bowlers:
---
Go back to all fixtures in 2017
For detailed information on each venue, please visit our Venues page