Famous Martlets
The Sussex Martlets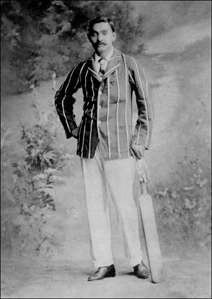 The Sussex Martlets was formed in 1905 and originally existed to "encourage amateur cricket in the County of Sussex". The Club was first called the Hove Long Vacation Club, a name which was to last only two years. The founder members were a group of leading Sussex cricketers and friends, amongst whom was Sir Arthur Conan Doyle. For further details please refer to the History and Records section.
Junior Martlets
Founded in 1929, the Junior Martlets were a natural progression for the Club and gave "county" exposure to good young cricketers living in Sussex.
Junior Martlet players often climb to much greater heights on the cricketing ladder; graduating from club to county and even England honours.
Golfing Society
The Golfing Society was formed in the 1920s when little or no cricket was played on Sundays, and the gentlemen or amateurs usually played golf. The Sundius-Smith family would entertain the golfers of visiting County sides at the West Hove Golf Club, and often asked their Sussex Martlet cricket friends to join them. The idea of starting the Golfing Society came from those two great Sussex games players J K Mathews and A E R Gilligan, the latter then County cricket captain. Matches were arranged with Sussex Clubs in the off-season, the format being two ball foursomes.
Famous Martlets
The Club has benefited from an illustrious membership. Early members included the famous names of C B Fry and K S Ranjitsinhji. 25 Test cricketers have played for Sussex Martlets (listed in the History and Records section), eleven of whom captained their country, and more than 140 Martlets have represented Sussex in first-class cricket. The Club has also provided eight Presidents of M C C.
The following are among current and more recent members:
John Barclay
Dominic Clapp
Clare Connor
Hubert Doggart
Robin Martin-Jenkins
Tim O'Gorman
Derek Semmence
Ashton Turner (Australia T20 International)
Kepler Wessels
Nick Wisdom
Geoff Wills (our former President)
Will Green (England Rugby)